<- Back to Happy Tails
Trigger (was Marty)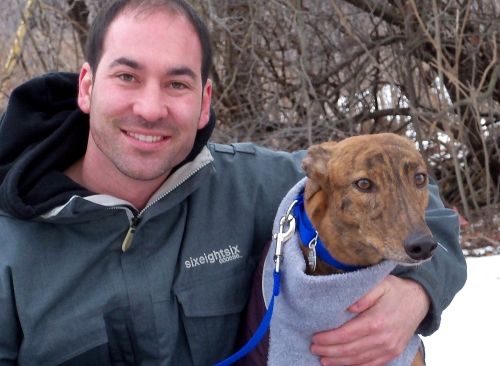 Marty's got a new home in Ottawa Ontario, and a new name!
Trigger's Dad writes:
"Hi!
I just wanted to thank you for helping bring Marty into my life! What an amazing guy he is! I love him to death. He has adapted very well to his new home. I have renamed him to Trigger, and he is already responding to his new name. I have attached a couple pictures of him to this email. You guys are very special people to be taking care of these beautiful friends. I will keep you up to date on his life with me.
Thanks again,
Mark"
Registered Name: Perseus
Sex: Male
Adopted on: Feb 13th, 2010
Color: Red Brindle
Right ear tattoo: 96D
Left ear tattoo: 39513
Birthday: Sep 11th, 2006
Arrived at NGA: Nov 8th, 2009