<- Back to Happy Tails
Cyndi (was Bindy)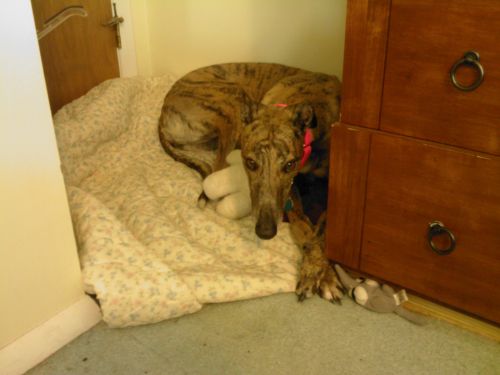 Cyndi's Mom writes ...
"Well Bindi who we now call Cyndi has settled in just fine. Here are the first two pictures. While visiting a few weeks ago she decided that this was going to be HER corner. It was filled with stuff and she found her way into a small space in the back corner, so we cleaned it out and it has been hers ever since.Will send more followups soon."
------------
Bindy is a sweet girl, she weighs 68 lbs, and seems to be good with cats and children. An excellent leash walker.
Registered Name: Gremlin Grin
Sex: Female
Adopted on: Jul 17th, 2009
Color: Brindle
Right ear tattoo: 44H
Left ear tattoo: 26053
Birthday: Apr 20th, 2004
Arrived at NGA: Sep 30th, 2008