<- Back to Happy Tails
Zoey (was Renee)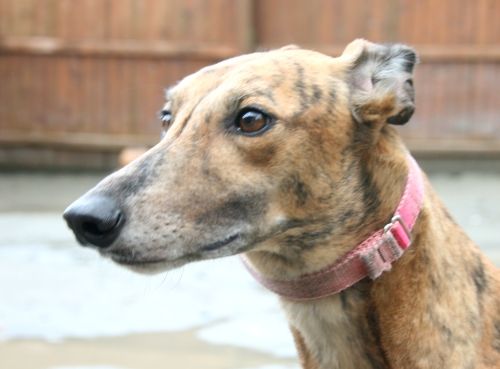 Zoey's family writes:
"Renee was adopted today! We have be looking for the right little sister for our 10 yr old greyhound Zena for over a year.
We lost our precious 13 yr old girl Maya June16, 2009 and so wanted to bring another greyhound into our family. It was a long search, but we finally found our girl Renee - now named Zoey! Like Maya and Zena, Zoey was a special girl who needed just a little more TLC than some of the other younger, more outgoing girls. We are so happy we found her, and she is allowing herself to become more a part of our family each day. Photos soon!

Many thanks to Dorothy for her patience as we looked for the right girl....oxoxoxo
chris, bill, zena and zoey"
-----
Renee is a pretty delicate red brindle, her coloring is as lovely as her calm, pleasant demeanor. A little on the shy side but blossoms with those she knows.
Registered Name: Don L Sis Renee
Sex: Female
Adopted on: Sep 15th, 2010
Color: Brindle
Right ear tattoo: 124H
Left ear tattoo: 32532
Birthday: Dec 18th, 2004
Arrived at NGA: Jun 5th, 2010