<- Back to Happy Tails
Annie (was Lady Anne)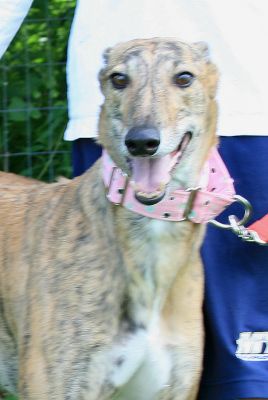 Lady Anne is home! Updates soon!
-----
Lady Anne is an outgoing girl and a lot of fun! She recently had to get 16 teeth extracted because of abscesses - poor thing! She is a relatively young girl with good manners and disposition. She is beautiful, attentive, and playful. She is healthy and she does love her soaked dry food!
Lady Anne is very good with children but does not seem cat safe.
Registered Name: Ditto Annespride
Sex: Female
Adopted on: Aug 29th, 2009
Color: Red Brindle
Right ear tattoo: 124C
Left ear tattoo: 30178
Birthday: Dec 5th, 2004
Arrived at NGA: Sep 30th, 2008