<- Back to Happy Tails
Robbie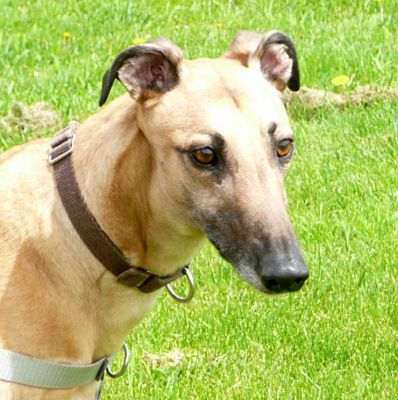 - Robbie has found a home with Inga and her Angel!
-----

We are committed to finding every one of the Greys that comes to us just the right home, but it breaks our hearts when they are passed over again and again ... Sweet Robbie has been at the rescue kennel for almost a year and a half! He needs to find his loving forever couch soon!
Robbie is a sweet and amazingly handsome but shy boy - he's just waiting for the right family to break him free of his shell! It won't be hard; he happily approaches someone for loving once he's become familiar and comfortable with them - having other dogs around him seems to help this. Give him a chance and find yourself rewarded many times over!
Robbie has tested cat and other small animal safe, and he is very happy to receive the attention of children who are gentle with him - he will shrink away before showing any aggression ever. If he was to go to a home with smaller children we would have to see how they interact with him before OK'ing the placement - gotta find what is best for this wonderful boy!

Registered Name: Happy Flats
Sex: Male
Adopted on: Jan 10th, 2010
Color: Fawn
Right ear tattoo: 115A
Left ear tattoo: 35329
Birthday: Nov 5th, 2005
Arrived at NGA: Jul 9th, 2008