<- Back to Happy Tails
Nosey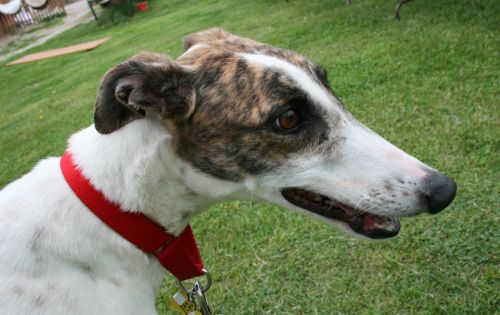 Nosey is home - update soon!
-----
Nosey is aptly named - she's very affectionate and likes to get her nose on you! She is also endearingly cute - just look at those ears!
Nosey is exuberant, sweet but can be quite active! (And hard to get a good picture of - rest assure, she's a cutie!!!) She seems small animal/cat safe but may need some work because of her enthusiasm - great dog for more active people with older children if they have them, she is young so will calm down in time we're sure.
Registered Name: Big Run Pacific
Sex: Female
Adopted on: Sep 17th, 2009
Color: White & Brindle
Right ear tattoo: 37B
Left ear tattoo: 41680
Birthday: Mar 24th, 2007
Arrived at NGA: May 15th, 2009